Long Term Care
Choose a Better Home Care and Long Term Care Strategy

According to AARP, two out of three people over age 65 will need some level of long term care in their lifetime.
There are basically four different ways to pay for or manage this eventual care.
Your family cares for you
You pay for care from savings or income
Medicaid, which requires you to first reduce your ability to pay
Long Term Care insurance
It's is important that you ask yourself where you prefer to receive care. Most would prefer to receive care in their own home. It's equally important to determine how much it will cost…and which asset you will choose to deplete first when receiving this care.
According to the "Genworth Cost of Care Survey 2019", there are five basic cost categories in long term care. They are Homemaker Services, Home Health Aide, Adult Day Care, Assisted Living, and Nursing Home facilities.
The current average annual costs for each in Texas are:
Homemaker Services $49,192 today in 2045 with 2% inflation $80,704
Home Health Aide $49,489 $81,192
Adult Day Care $13,000 $21,328
Assisted Living private 1-bedroom $45,000 $73,827
Nursing Home private room $74,825 $122,758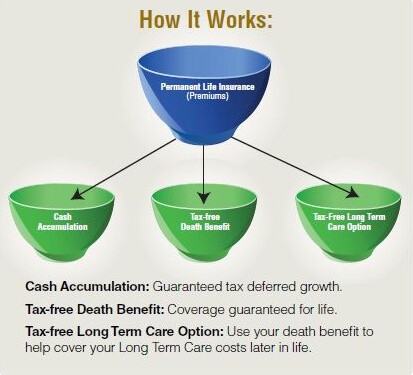 When considering the four ways to manage and pay for care, if you want to depend on family, you are, quite frankly, optimistic and lucky. Most don't feel confident that they can count on family to be available or perhaps don't want to burden family.
The second way is to pay for it out of savings and cash flow. You can see from above cost chart how that can quickly deplete savings. This is especially true if the care issue is Alzheimers Disease. This often requires eventual facility care for a number of years.
The third way is to let the government pay under the Medicaid rules. This is not the greatest choice as Medcaid will not begin to pay until after you have significantly depleted your assets and income. Medicaid typically will not cover private rooms.
Finally there is Long Term Care insurance. Traditional LTC insurance is better than zero coverage, but premiums are not guaranteed to stay the same and often increase during retirement years. Additionally it functions very much like fire insurance on your home…if you need it you're happy you have it. But if you never use it the premiums are lost.
My preferred payment method is a LTC provision on an Indexed Universal life Policy, (IUL). This allows the death benefit on your life insurance policy to be advanced to you during your lifetime for qualified home care and long term care needs. Because death benefits are paid free of taxes, this advance is also received tax free. Additional benefits of the IUL are the policy builds cash value which can grow over time and can be distributed tax free on demand. This effectively means the premiums are partially recovered via tax free distribution or recovered in excess of premiums paid as a death benefit to the beneficiary.